Choosing a Building Firm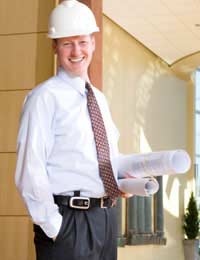 If you are planning some changes to your first home unless you are experienced at renovation or redecorating you will usually need some kind of expert help or guidance.
Doing building work on your home is likely to be one of the biggest investments you make - other than the actual property itself of course. Making sure you get the right help and not ending up with cowboys is a definite must.
Get the Right Team
Depending on what kind of work you want to do, make sure you get the right people around you. For structural changes you will need a range of services - architects, structural engineers, surveyors and so on. You will often find that professionals like these will have recommendations for people they are used to working with so that might help. But also always get some independent advice as well as these referrals.
Get Some Quotes
Whatever it is you need to do, a good general rule of thumb is to get at least three quotes. Discuss everything you need in full with your team and ensure you are fully prepared for what is coming. Do you need planning permission, for example. Ask to see examples of work they have done before, and look for references. Respectable professionals will not have any problem giving you peace of mind in this way.
Check also to see that they have done the kind of work they're pitching for before. If it's a conservatory, for example, this is a very different job to bathroom renovation and plumbing. Ask them about their relevant experience.
Know the Full Cost
With building work it's often a very good idea to get a flat rate for the whole job. Daily rates might seem more attractive but anyone who has been through any kind of building work will tell you it's very common for these things to take longer than planned, and if you're paying a daily rate this can end up costing you lots more than you have budgeted for.
It's also worth remembering that there is less incentive for the builders to get the work done in time if they're being paid by the day. Any overrun means more money in their pockets!
Make Sure you Have Permission
Depending on what kind of building work you are having done, you may need to get planning permission from your local authority. In situations like this it's far better to be safe than sorry, so always check, even for small things.
Payments and Contracts
Once you have struck a deal for the work, there are other considerations to think about. How will you pay? It's unwise to fork out large sums in advance for example, so schedule a payment into the proceedings.
Get a final completion date agreed and perhaps if it's a big job that will cause problems whilst it's going on, or if you have a requirement for finishing on the dot, put in a penalty clause for late completion. You don't want it running on and on causing difficulties and you could ask if they are happy to accept a retention clause too. This basically means you withhold payment, or a portion of the payment, until you're satisfied that the job has been done properly.
If it Goes Wrong?
Just in case things go wrong, it's worth agreeing up front that any dispute will be settled by an independent arbitrator. If you have put in place some of the suggestions above, you will find it easier to be clear about what is agreed or not, and make sure when striking the deal that both you and your professionals know exactly what you expect from the outcome. Be very clear about what you want, and they will find it easier to meet your brief.
Finally, look out for the TrustMark, which is a new scheme supported by the government, consumer groups and those who are in the building game, to help you source reputable professionals and suppliers. If a company has a TrustMark you will know they have been checked out and approved to government standards.
That's not to say that companies not registered don't meet requirements, but it's another way perhaps of making a decision if you're not entirely sure about someone.
All this sounds like a lot to think about, but building work is risky and expensive. So don't be shy, ask those questions.
You might also like...