Installing New Fittings and Appliances in Your First Home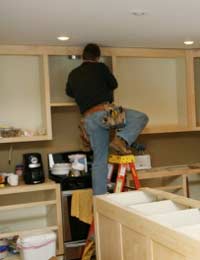 Most of the appliances you have in your new home will be in the kitchen. You might be finding you have to budget closely when you first move in, so buying lots of labour-saving gadgets might not be the best way to move forwards initially. But it could be that you have budgeted for this, and have plans for all sorts of goodies for your home.
Fitting large appliances is generally a bit of an expert job. It is possible to fit them yourself and some are easier to fit than others. Do your research carefully, measure everything accurately, and select the best locations and you're halfway there.
If you have any doubts at all, call in the experts. You do not want to be dealing with the damage your failed efforts could create!
Choosing the Right Appliances
As with all things in your home, you will need to think carefully about the best appliances to buy, and what kind of size. It's pointless for example having a massive fridge when it's just the two of you and you're at work all day, but equally, if you have a family, you're going to need plenty of everything. Plenty of fridge and freezer space, a good washing machine and as many labour-saving gadgets as you can get your hands on!
Ovens
Choosing the right oven is extremely important as you're likely to use this bit of kit rather a lot. But think about how you use it, and how often, to make sure you have the right balance in your kitchen. If you are a keen cook who often makes meals for many mouths, then a good size oven is what you'll need, with plenty of usage options such as burners, griddles, grills - even rotisserie and deep fry units might be worth looking at.
If you're not there, working late a lot and relying on convenience or quick food options, a smaller functional oven is better. Decide too which you prefer - are you a gas or an electric kind of person?! Check you have easy access to gas supply if the former, as you don't want to be laying extra gas pipes.
Think also about the layout of your kitchen… a huge oven range as part of a kitchen island might be very glamorous, but do you have room? Wall standing units will leave far more space. And how easy is it to clean? Might sound daft but if you use it a lot and you're constantly cleaning - are those deep wells that larger gas rings have a sensible idea or is it better to have a flat top with electric rings underneath?
Separate Hobs
If you are choosing to have a hob separate from your oven you will need to have the appropriate sized hole cut into your work surface, and think about your positioning again. For both the hob and oven, if gas is involved, ensure your gas fitter is Corgi registered.
Built-in Microwaves
Not too hard to sort this out, all it needs is a power supply and somewhere to live. But decide on the right colour for your overall scheme and whether you want it to have a grill as well as microwave cooking. There are several types on the market, some easier to use than others!
Extractor Fans
The type of extractor you might want will depend entirely on your kitchen layout, and you may decide not to even have one. They will need some kind of outlet - either a direct vent through a wall or up a chimney flue - and can be costly to fit if there hasn't been one before. Talk to your kitchen fitter about this. It's not something you should look at trying to knock up yourself unless you're extremely proficient at building work.
Washing Machines and Dishwashers
Both these appliances will need water supply and drainage, so think about this when choosing their location and aim for near the water supply and drains. If the machines are the other side of the room you've got plumbing challenges straight away so make life easy for yourself if possible.
If you are fitting the appliances into a space already existing for the job, measure it accurately, as you don't want gaps around these machines, or for them not to fit. There are standard sizes so if there's an aperture already, you should be able to find one to match.
Remember your pipes and wires will mostly need to go underneath the machines in fitted kitchens so you will need a plinth for them to stand on. This can become a problem for washing machines as they have to have waste pipes at the back so take good care when choosing the location - you will need a bit of space behind.
If you have a smaller kitchen both these appliances are also available in slimline versions
Fridges, Freezers and Fridge-Freezers!
The same goes for any of these in a fitted kitchen so remember to create some space underneath for wiring and so on. The larger American style fridge-freezers stand on the floor and will need adjacent wiring and water supply for ice and filtered water dispensers, so allow a bit of extra room for these.
Other Appliances
The rest of the appliances you might need are rather more fun and less serious to choose, being freestanding and requiring little thought other than whether they're the right object - such as kettles, toasters, blenders and so on.
You might also like...