Replacing the Heating System in Your New Home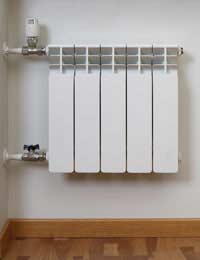 It's often the case when moving into your first home that you will have bought something that needs a bit of work. It's a good investment, means you get a bit more space for your money, and gives you a chance to stamp your own mark on the property.
It does mean however that sometimes some aspects of the place need more attention than others and very often the central heating system, assuming there even is one, is one of those things.
No Central Heating?
It's pretty unusual these days but not unfeasible to find properties that don't have central heating, particularly flats that may have been rented out before being sold, or houses that have been occupied by the same owner for years.
Mostly it's a good idea to have central heating. It's warmer, more efficient and cheaper than the alternatives, which can range from gas fires or electric heaters through to open fires and Agas. If you are planning to install central heating in a house, unless you are a very proficient DIY-er you are going to need the expert help of a specialist. This is not a job to 'have a go' at!
How Does it Work?
Very simply you will have a boiler, which supplies hot water. This hot water can come out of the taps and also feed the radiators, which then get hot. Hey presto, your place is nice and warm - and you have hot water! There are different types of boilers and control settings which include timers and thermostats, and your choice of boiler can be affected by your usage and property type.
Conventional Boiler
This is the one that stores hot water in a big tank. The fuel bills can be a bit more pricey but the maintenance costs are usually pretty low. A good option for most properties it has easy controls and tends to be reliable - can be driven by a pump or simply by gravity.
Combination Boiler
This one heats water for the central heating the same way as the conventional boiler but has the added advantage of supplying instant, or almost instant, hot water. The hot water is heated directly as it flows from the mains, so it's a good fast supply. The 'combi' as it's known, is compact and will suit smaller properties - although you lose the warmth of an airing cupboard. These boilers are less reliable and quite complicated but pretty popular.
System Boiler
This is similar to the conventional boiler and works in the same way, but has all the pumps and internal workings in one place. This means you can have the whole setup in the loft, for example, rather than spread over the house in various components.
Back Boiler
These can be fuelled by gas, oil or even solid fuel and are fitted to expel gases up the chimney. If they run from solid fuel they can only heat water if the fire is lit but gas or oil can work independently with an electric immersion heater. These are less common these days and you're more likely to be removing this and replacing it with a combi, rather than installing it unless property restrictions dictate.
Condensing Boiler
A bit more complicated and technical this one, but in a nutshell the condensing boiler uses hot flue gases to reheat cooling water, therefore reducing fuel bills considerably. These are growing in popularity but still developing and can be prone to breaking down. Once the teething troubles have been ironed out, this will be a very popular choice indeed as it's green as well as cheap.
Radiators
There are different types of radiators to choose from, apart from the obvious size choices. Shop around to see which are the best for your property - thin ones, vertical or horizontal, period styles, radiator covers for more a traditional look - even curves and crazy shapes are available. You should also think about towel rails for the bathroom.
Underfloor Heating
If you are laying floors too it might be a good idea to consider underfloor heating. This can be especially nice in bathrooms for example, or under tiled floors as these can be very cold.
Call in the Experts
Whatever you decide is the best method of heating for your property it really is worth calling in proper fitters. Ask for recommendations, or go through the Yellow Pages. Look for Corgi registered engineers as they will know what they're doing with the boiler. And get two or three quotes, as with all tradesmen.
You might also like...