Exterior Work on Your First Home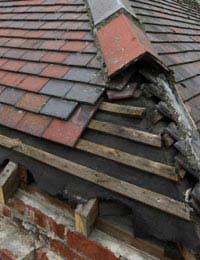 Taking care of your property doesn't just mean looking after the inside, and keeping it clean and tidy. The exterior of any property gets a fair amount of wear and tear, being exposed to all elements, and needs regular maintenance to prevent long lasting or more serious damage.
The golden rule when thinking about the outside of the property is repair and restore, and do it quickly. In the long run, ignoring small problems can lead to much larger issues if left to get worse, and rather than dealing with a small job you could suddenly find yourself with a major replacement or renovation job on your hands.
Masonry
The masonry is the stone part of your house, including brickwork. Apart from being the outside of the property which is the first thing anyone sees, it's structurally very important and needs taking care of. There are paints and coatings available that can protect masonry against rain and bad weather, but you should also look for damage in the rendering or mortar (the wall covering used to bind the stones and bricks) and pointing (where the joints are filled with mortar). Also loose bricks.
Keeping a close eye on these and repairing or re-pointing where necessary will save you experiencing more damage later on but you will need to get some expert help for this. Yellow Pages is a good place to start, or perhaps ask your new neighbours for a recommendation.
If it's just a case of upkeep, a fresh coat of paint and new weather sealant will help protect against any damage occurring. Your local DIY store can advise on the right products, and probably sell you a nice long ladder at the same time!
Driveways
Driveways too need care. Whether you have a tarmac, stone, gravel or paved driveway it's a good idea to keep it clean for a start. Nothing quite takes the shine off the outside of a property as a driveway covered in weeds, or with big oil spots. So roll up those sleeves. Repair can be quite easy too – you can buy bags of gravel, or replace the grout in paving quite easily. But it might be something more serious, such as a particularly damaging weed growth through tarmac for example, in which case you'll need to call in the experts.
Roofs
Very important to look after is the roof over your head! Look for loose tiles or slates as they can let in water which can cause a lot more trouble. Also make sure your guttering and drainpipes are in good working order and not clogged up with leaves or moss. Otherwise a good downpour can cause it to leak, flood or even all fall down.
Chimneys
Whilst you're looking at the roof, check out the chimneys too. If you use a real fire, keep the flues clean and clear, and check for birds' nests.
Drains
As well as keeping guttering and drainpipes clear of rubbish, keep your eye on the drains too. Blocked drains can be a complete nightmare and you can help to prevent this by ensuring dead leaves and general outside and garden debris doesn't get in there. This can also include litter at the front of the property that may blow in there, such as crisp packets and so on.
Varnish and Paint
Keep an eye on outside woodwork and metalwork. Fences, window and door frames, decking and gates all need regular coats to keep them in tip top condition and it's good practice to do this every three or four years.
Trees and Foliage
Ivy creeping up a wall can look lovely but potentially is quite damaging for the wall, the roots getting into the masonry and pointing. So keep it trimmed or even better, take it out completely. Watch out though if it's well established as it could pull out chunks of brickwork or rendering. If you want to do that, get some help from someone who knows about this kind of thing.
Trees can cause damage too – look out for overhanging branches that can affect power lines or even fall into neighbours gardens.
Electrics, Aerials and Lighting
Make sure your bulbs are replaced when they go – particularly in any security lighting – and keep a close watch on cables or power lines into the house. Anything flapping about loosely stands a greater chance of breaking. Also TV aerials and satellite dishes should be checked occasionally, if only to keep a watchful eye out for bird droppings!
You might also like...