Outdoor Buildings at Your First Home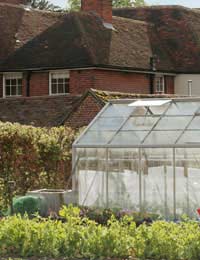 If you've just bought a chic urban apartment in a brand new block somewhere then you're unlikely to have any kind of outdoor buildings with it except perhaps an area or outside cupboard to keep your bins!
But often first time purchases will be properties that need some work doing and this will generally include not just the dwelling itself, but many of the outside buildings that go with it.
This could include conservatories, garages, greenhouses, sheds, summer houses and so on. It's tempting to think about the inside of your place first, as you spend most time there. But utilising outside buildings can make a difference to the traffic and impact on the inside too.
Conservatories
One of the quickest ways to extend your house and certainly cheaper than a full extension with brick walls and foundations, the conservatory can still be a big cost to either erect, or even improve and maintain. Old conservatories can have rotten frames, damp, broken glass and so on, and may be more bother than they're worth. DIY conservatories are inadvisable too. But a decent conservatory, with modern structure and fittings can be a haven of warmth and light especially in the summer.
If you are considering having a conservatory, take a look at the style of your house to gauge the right type of conservatory and aim for a similar period type. If you have a west facing garden it might be better not to have complete glass all the way round as it will be very hot, and think about what kind of doors you want and how they will open and therefore affect the way you use the garden. As with everything get a few quotes from conservatory builders first, and don't forget how much space they will take up. You also need to think about flooring - it's not just about the vertical structure!
Garages
What you decide to do with the garage will depend entirely on what you intend to use it for. Are you going to simply be parking your car in there, or using it for storage? Perhaps it might be that you need the space for a workshop for tinkering with cars or some kind of craft activity. You will need to consider shelving and lighting. It's not unusual for garages to be turned into annexes too, for 'granny flats' or spare sleeping space. This can be done quite easily if the garage is a sound structure. Some damp proofing and insulation, a decent floor, and you could have extra living quarters!
Think about the way you access the building too - will you need to drive into it and if so, how will the doors work? Also think about security for the building. If you are keeping valuable equipment or belongings in there, sort out some locks, and some security lighting.
Greenhouses
If you're a gardener, or would like to be, you should definitely think about a greenhouse, even if it's a small one. If there is one at your new home already that could be fine but make sure it suits you. Too big and it's another upkeep, too small and you'll be frustrated. Like everything, there is maintenance to consider - broken glass, water supply etc. You can buy self-assembly smaller greenhouses, which are fine, and garden centres sell these, along with wooden benches for the inside. But anything complicated or big may require an expert!
Sheds
Any outside space will take a certain amount of maintenance. Whether it's cutting the grass, trimming hedges or simply sweeping a patio there will be tools! A shed is perfect for this and there may already be something there, if not perhaps consider a small 'lean to'. Sheds should be waterproof - at least the roof should be otherwise tools can get rusty - so keep an eye on that. Cheap self assembly sheds are available from garden centres and DIY stores.
Summer Houses
Less fashionable these days but still in use, often where there is decked or patioed areas, the summer house is a less functional, more elegant outbuilding than a shed and can offer a place away from the house to relax in the summer. To be honest, most summer houses double up as sheds anyway and end up housing all sorts of garden tackle, including outdoor games equipment like balls, cricket sets etc. Maybe combining the two needs are not a bad idea!
You might also like...