Improving or Changing the Garden at Your First Home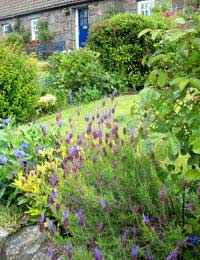 The garden can make a fair bit of difference to a property. In the summer it's another place outside which can extend the space you live in, and the British are spending more time enjoying the great outdoors, with barbecues at an all time high in popularity.
It might be that you have bought a place that has a perfectly formed outside space in which case, congratulations! But in most cases you will find that either the garden is not at all to your liking, or that perhaps it's been left to run down - which often happens when people decide to move out. Whatever the reasons, the chances are you'll want to put your own stamp on the garden and there are plenty of ways of doing this.
Usage
Firstly think about what you use your garden for. Do you have small children? If so, you might want to have plenty of soft grassed areas, and not six foot deep koi ponds or delicate planted areas. Are you busy people, working full time? In that case you might like to have something that's easy to keep rather than endless borders that need weeding. Do you walk up and down in a certain area for any reason? In which case perhaps that should have a pathway rather than grass. Have a good think about what you'll be using the garden for.
Decking and Patios
Increasingly popular these days is decking for a hardstanding area that can house that all-important barbecue or garden furniture - and it can be something you can put in yourself, with a bit of effort! DIY companies sell self-assembly garden decking with prices starting at around £300, but do check to see if your garden is right for this.
Gardens that slope will need expert help to install decking, and if you have loads of trees, this can make it very hard to work around them. It's also a good idea to get rid of any grass growing underneath where your decking will be, and check it's going to be in a nice sunny location.
Patios too are a great option for the garden and they too are available in DIY kits. It's a bit more involved, needing foundations, grouting and special areas created for pots and so on. Again, look to see the sunniest spot in the garden for laying it. But is extremely hardwearing and easy to keep once it's done.
Grass
It might be that there is already grass in the garden, or perhaps that you want to add it where it doesn't exist. Depending on the state of your grass, you might need to jazz it up in places rather than do the whole thing, in which case laying sections of turf could work, or even planting grass seed. Garden centres have helpful staff who can chat this through with you, and advise on laying turf - which they also supply. If you want to do a large area, it could be worth getting in a turfing company although it's perfectly do-able by yourself. Do some research online or in gardening magazines, check the drainage and whether you need fertiliser and so on.
Lighting, Pathways, Water Features and Ponds
It's not all about grass and decking. You might want to consider other design aspects of your garden. Whatever the size of it, it's worth drawing even rough sketches to identify how best to lay out your garden. Put pathways where you naturally walk, ensure your lighting will illuminate the parts you want to reach and be easy to find to turn on in the dark! And put ponds where you can see them, but won't have to hop over them to get to the other side!
Water features should be something that play in the background rather than a splashing waterfall that takes over the place. Unless you have a huge garden that is. Choose something that sits well in your spot, look at the surroundings to see if it is suited.
Growing Things
You might be one of those enviable people with green fingers, or a complete novice with aspirations as a keen gardener, but the chances are you'll want to grow something in your garden. This could be pots of glorious coloured flowers on your decking or patio, beautiful herbaceous borders, spiky rockery gardens or plots full of fruit and veg. Again, be realistic about your time and ensure you plan the right place and usage. Have you got the right soil? Is there enough sun?
Is your Garden Green?
Think about the environmental impact your garden is having. Are you using eco-friendly products such as organic fertilisers or bio-friendly bug sprays? Try to avoid harsh chemicals for killing weeds and insects, as this all enters the soil.
Think also about installing a composter. It's great for chucking all your peelings and breadcrusts etc into and will save you money on potting compost too. You'll also get a great feeling from using it and if you choose to grow vegetables, it's invaluable.
Call in the Experts
If you don't fancy rolling up your sleeves for any of these improvements, don't worry. There are plenty of experts in all forms of garden development and maintenance. Try asking neighbours if they can recommend anyone, or check the Yellow Pages. Get at least two or three quotes though for each area, just to make sure you're getting a good deal.
You might also like...