Buying Furnishings for Your First Home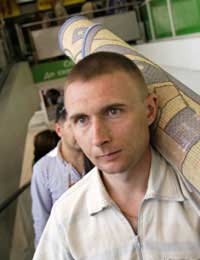 Home furnishings are different from furniture in that they are generally not the things that are free standing. Home furnishings are carpets, floorings, curtains, blinds, and drapes and can help build the fundamental design basis on which to build the property's decorating or other furniture.
Bed linen and other items such as rugs, mirrors and lighting are also often classified as furnishings rather than furniture, but it's a bit of a grey area, and partly down to personal interpretation.
Taking most of these into consideration, your home furnishings are the items that are the next stage up from your colour scheme, laying the building blocks of your interior design. Get your colour sorted, then start looking at the rest to help create your perfect home environment.
Floor Coverings
Choosing your floor coverings is an integral part of the design strategy of your home. The difference between tiles, floorboards and wooden floors, and carpeted areas is vast, changing the whole look and feel of a room.
When deciding what to put on the floor, think about the usage that the room will get. If there is lots of traffic in the room, perhaps thick pile carpet is unwise – you would be better off having a hardwearing floor. The same goes for conservatories or hallways – if the doorway leads straight outside, light coloured soft floorings won't be a great idea! Tiles or wooden floors work best in this situation.
Bathrooms are also better off with hard floors, as carpets get wet and harbour mildew. But bedrooms, dining rooms and living rooms might need a softer touch. Remember also that carpet adds warmth to a cold room, insulating from the ground up, and that hard floors can be noisy, especially for those underneath the room.
If you are looking at tiled or wooden floors, think about rugs to soften the look and feel too, and work with your chosen colour scheme. Finally, bear in mind that wooden floors will scratch and need specialist products for cleaning.
Curtains and Blinds
Whether you choose curtains or blinds will depend very much on what kind of design you are going for throughout the property, but also what kind of room you are looking at.
It's quite usual for kitchens and bathrooms to have blinds as these rooms are generally more functional than fussy in design; conservatories and studies too for the same reasons – can you imagine curtains in a conservatory!? But bedrooms, living rooms and dining rooms are much more likely to require something softer.
This isn't necessarily the case of course and if you have a very modern feel to your home, then blinds can be used wherever you like. Blinds don't have to be stark – there are many different types – Roman blinds for example are made of fabric, and light and soft. It's all down to personal taste, just bear in mind your colour scheme again.
With curtains, not only do you need to choose the fabric, making sure it's the right density and design for the room, but consider types of pleat, what kind of rail or poles you want, whether to have drawstrings or pelmets – there's a lot of different choices to make and you should do some research. Off the peg or made to measure, the choice applies to both curtains and blinds.
Finally, check to see what will actually fit on your windows. Some windows for example have such tight corners or flat frames that blinds just won't fit. Equally, some window bays are so deep, or filled with a piece of furniture, and having pull strings for opening and closing them will be vital to use them.
Other Furnishings
Once you have your colour scheme in place; your paint, wallpaper and flooring, plus curtains, rugs or blinds, you pretty much have your canvas to build the rest of the property around. Get the right type of furnishings for your usage and the colours you have planned for and you can start to add the other stuff, like sofas, bedding, wall hangings etc,
You might also like...