Storage Solutions for Your First Home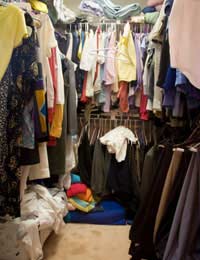 Every home needs some storage space and how much will depend on your personal circumstances. Perhaps you are two people coming to live together for the first time in your first home and each bringing stuff with you. Or if you have children you will know only too well how much 'stuff' they can generate! Whatever your situation, it's pretty definite you will have a requirement for some space to stash boxes and belongings - even if it's just the Christmas decorations.
Most households find that the longer they stay in one place too, the more they accumulate. So even if you're moving into your first home with little need for storage, you will need to build it in for consideration further down the line.
Making Space
Storage isn't just about putting things away for another day, or keeping them safe, it's about creating more space in your living areas too. Clutter is a fast way to losing the feeling of space around you.
The best way to de-clutter is to use clever storage solutions such as drawers that fit under beds, stacking boxes with lids and plenty of shelving. Use storage boxes to great effect in the kitchen too, for recycling, vegetables and so on.
In the bathroom, look for units that can fit into showers, on the back of doors, over baths etc to keep bits and bobs tidied away, and children's rooms - well, the more boxes with lids you can get for them the better!
Papers and Paperwork
Paperwork can create a lot of mess and fuss around the place, but can very easily be filed or tidied away. Invest in a reasonable filing box with alphabetical dividers and keep all your paperwork neat. Magazine racks are perfect for keeping other publications and digests organised - just make sure you clear it out regularly and recycle the paper.
Clothing and Shoes
If you're the kind of person who opens their wardrobe doors and everything falls out, then you need to think about storage solutions here too! Firstly have a good clear out and take anything you haven't worn for a year or more to the charity shop. You clearly don't need it. Then invest in some clever storage solutions here too. A shoe rack, for example. And some decent hangers too.
Kitchens
Often the hub of the household, the kitchen is a prime location for clutter and good storage will make a great difference here. Stacking shelves for pots and pans, hooks for larger cooking utensils, pinboards for menus and letters and so on, racks for jars and spices, bread bins, revolving shelving in food cupboards - there are plenty of storage options available.
Storage Away from your Home
It might be that you have moved in together and between you, there is too much to fit in the house, or perhaps you are even renting before buying or waiting to move into your property. It might be that you are only in your first home temporarily, or moving abroad but keeping the property on, perhaps that you have acquired more belongings one way or another, or even that you are having renovations done to the property and need to move your belongings out whist this is going on. Whatever is going on, there are often reasons why people might need to store larger pieces or boxes of belongings somewhere safe for a period of time.
There are plenty of self-storage facilities available and these can be found quite easily in the Yellow Pages, Thompson Local or online search.
What to Look Out For
Work out exactly how much space your belongings will take up - it's pointless booking a storage unit and then finding that your things won't fit in there!
Look out for containers that are clean, dry and secure and that access is easy. It's also worth asking the storage supplier for containers or boxes to keep your things in, as they can often supply these too.
Work out how long you are going to need to use the space for, some places will offer you deals on longer terms, for example.
And make sure that you're the only person who holds the key. You don't want people nosing about in your belongings whilst you're not there!
You might also like...