Colour Schemes for Your New Home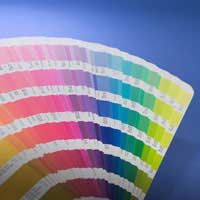 It's highly unusual for first time buyers to have the luxury of decorating the whole property from scratch all at the same time. In an ideal world, it would be great to choose a design and colour scheme and just do it all at once, but probably 99% of new home owners simply cannot afford that.
Generally what happens is that the property is redecorated room by room as bits of funding become available for the work, and it's very easy if you're not careful to find suddenly that none of the rooms match with each other!
Choose a Style
Think about the kind of people you are, and make a decision about how you want your home to look. This will help a lot when choosing colours, designs and fabrics from room to room. Are you a fan of modern design? Or more floral or traditional? You don't have to work out exactly what you want in each room all at once of course, but if you have a particular theme or style in mind, then each time you come to change something, you can keep that in mind and it will help when making selections.
Is It In Keeping?
Look at the place you're in - do your design ideas suit it? Think about the period of the property and bear in mind your location. Floral and chintz just don't work in modern purpose built apartments for example, neither does monochrome minimalism work in a country house. Be sympathetic to your surroundings and you will feel more at home with your changes. Of course stamp your personality on it, but be aware of whether it suits the property.
Coordinating Colour
Picking a base colour for a room helps as a linchpin for the rest of it. If you apply this base colour for use on the walls, followed by complementary paintwork, flooring and furnishings, you will find all the rest slots into place easily. Use the base colour throughout the room in different shades, with contrasts in light and dark, to get a well balanced foundation.
For example, choosing a brown colour for the walls - whether it's large panels of colour or patterned wallpaper, you might then have light cream paintwork, a wooden floor and oatmeal or cream for the larger furnishings, such as sofas.
Once you have that in place you can jazz it up with complementary accessories in bolder or contrasting shades - rust coloured cushions, white occasional furniture etc. Build up your colour palette starting with the big stuff first and each time you consider adding something that's a different colour, ask yourself, would you wear that colour combination if it were clothes? If not, don't put it in your room!
Usage
As with all aspects of your property, think carefully about usage. Busy places with lots of traffic and children are not necessarily well suited to having light walls and furniture, for example. Think also about what each room is used for and consider whether the colour scheme will suit it. How many windows are there? If it's a small room without much light, don't go for dark colours unless you want a den-like feel to the room.
Moods and Colours
It's a well known fact that different colours can affect our moods and you should consider this when choosing colours for a room. Tones can be harmonious or contrasting and can affect the way you feel when you sit in a room.
As a general rule, striking colours are best kept out of the bedrooms and bathrooms which is where more relaxed activity goes on. Go for gentle tones, lighter colours without harsh contrast or shocking colour. For kitchens, think about the kind of cook you are - do you need clinical and monotone or is it a busy breakfast room where everyone eats?
Think also about the kind of people you are and the colours you wear. After all, you've got to stand in your own home, and you don't want to clash with it, do you?
You might also like...