Choosing Furniture for Your First Home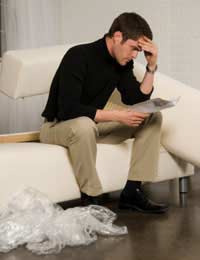 If you're moving into your first home you might well be looking for new furniture to add to the excitement of creating your dream home! The chances are that you might already have some pieces, but if you're redecorating, you will want to put in place some other pieces that suit and enhance your new décor
Buying and choosing new furniture can be exciting but requires a bit of planning. Large pieces such as sofas or dining tables and chairs can be expensive, and it's important to make sure you get it right.
Make Sure it Fits
Choosing the right furniture will depend on several things - your chosen design style and colour, the age of the property and of course the colour scheme. But do think also about the space it's going to fill and measure it before buying. Make sure also that you can get the furniture through the door or you will be taking it apart just to get it into the right space.
The Right Colour Scheme
If you're planning to redecorate the room at the same time as you're choosing furniture then great, you can plan the whole colour scheme at the same time, but if you're only buying furniture you still need to look at the room it's going in. Ensure when choosing items of furniture that it blends with the cornerstones of your design - i.e. that the colours complement the walls, floors and soft furnishings in the room. You can add contrast afterwards.
The Kitchen
The chances are that the kitchen is going to be a functional space and the majority of any new purchases will be appliances. But you may want to look at dressers with drawers, breakfast tables for eating at, or chairs and stools for counters. Think about how you use the space when choosing your furniture.
Living Rooms
This is where your comfortable furniture will be, or the nice dining furniture you use when eating, either formally or as a family. This furniture is likely to get heavy usage so ensure that it's not just comfy, but hard wearing too.
Try out sofas to see if the position suits you, and think about peripheral items such as bookshelves and shelving. This is where you're going to spend a lot of time relaxing so the colour and style need to be something you can live with easily.
Study
If you work at home then study furniture has to fit the brief you need for your job. If you're seated a lot, make sure you choose a chair that will support your back and that your desk or table is at the right height. If you have a computer, ensure it's also set so that your neck isn't bent forward or the screen too high - otherwise the wrong configuration can cause all sorts of physical problems like bad backs or neck ache.
Conservatory
There's a good chance that the conservatory might be something you've added yourself so choosing the furniture is all part and parcel of putting the whole look together. But think about the type of furniture you want - often conservatory furniture is more 'rustic' utilising materials such as bamboo, wicker etc.
Light colours can be good, as sunlight will bleach darker fabrics, and maybe opt for less formal styles as this will often suit the environment better.
Bedrooms
The bed is one of the most important things in the house! It's where you will spend a whole lot of your time, so it's got to be right. Do you like a firm mattress, memory foam, springs or futons? There are many styles out there, so shop around. Think too about storage - for example beds sometimes come with drawers built in to the frame which can be excellent for children's rooms.
Making the Right Decision
Whichever room you are choosing furniture for make sure you take your time. Have a good read through some design magazines, which offer great ideas. And browse websites and shops before making decisions. You can't send back furniture just because you decide after all that you don't like it. So make sure you get it right!
You might also like...