Making An Offer On A House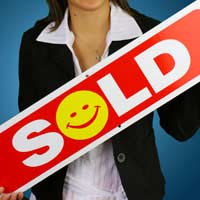 So you've found your dream house, and you've done the research you need. Checked that it's in the right area, decided you can afford it?
When you are planning what to offer, first and foremost don't forget all the other costs involved in buying a house, such as solicitor's fees, land searches, insurance and mortgage lenders fees. You should allow for this when deciding what to offer for your new home or you could find yourself in financial hot water very quickly!
Deciding What to Offer
The property will normally have an asking price and it's down to you to make the offer. The vendor will often expect an offer below the asking price so don't be afraid to go in a bit lower to start with. But you will need to assess the valuation carefully to gauge what is a fair price. There's also a very good chance the seller may want to negotiate, so it's a good idea to prepare yourself for a bit of haggling.
Look at the asking price, and check around the area. Look at other similar properties and check their asking prices too. Has the one you want been valued fairly? It might be that houses in the area are selling like hot cakes, so it's likely that the vendor will achieve the asking price. Or if you think it's a particularly hot property or a complete bargain, it might be prudent even to consider offering slightly higher than the asking price. Look also at any internal things you might like to add to the negotiation pot, such as carpet, curtains etc as this can all be part of the haggling process!
Chat to other agents in the area who are not handling the sale of the property you want, to get some unbiased background. Don't forget the estate agent you're dealing with is acting for the vendor and his fees will normally be a commission on the sale. The more the property sells for, the higher the agent's fees – it's in the agent's interest to get as much for it as possible!
Making an Offer
Set yourself a limit and stick to it. If you can only afford so much, then don't be tempted to try and stretch yourself – remember there will be other houses, and putting yourself under financial strain is never going to be a good idea.
Plan how you're going to approach your bid and make a verbal offer at this stage. The way to do this is through the estate agent, and can be done in person or over the phone. You may be asked to commit the offer in writing. It's very important to remember any bids in writing should always be headed up 'Subject to contract and without prejudice" – or the offer is legally binding and you could find yourself held to it in court, even if you decided you didn't want the property any more.
Depending on the response there will be a period of negotiation, which may or may not include any fixtures and fittings, and finally, hopefully, you and the vendor will settle on a price you are both happy with.
Sealed Bids
If several buyers are interested in the same property, the vendor may request offers as sealed bids. Sealed bids are where all interested parties make an offer in writing and the offers are opened at the same time. The highest offer is then chosen.
A bit more tricky this one, as you've got to guess what the other potential buyers might offer. But a good rule of thumb is to fix your price at the maximum you're reasonably prepared to pay and bid that. Adding a pound to a bid can sometimes swing it, as the highest bid is chosen and rounding it off by a minimal amount can put you at the top. For example, if two buyers have bid £150,000, the one who has rounded it up to £150,001 will win. And don't forget to put "Subject to contract and without prejudice" at the top of any letters! You never know what might happen.
You might also like...