What Can I Afford?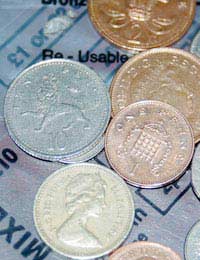 Planning what to borrow to buy your house takes careful consideration. It's very important that you don't stretch yourself too much, or you can end up in trouble.
One of the first things to remember is that what you can borrow might not be the same as what you can actually afford. Or vice versa.
How Much Can I Borrow?
This will vary from lender to lender, but as a general rule of thumb, you're looking at an average of three times your salary or combing salaries. You will be able to find plenty of online mortgage calculators offered by companies who can lend you the money, so it might be worth looking at a few of these.
Of course you can find mortgage lenders who are willing to give you much more than this, even up to five or six times what you earn, but this is dangerous. It's going to very expensive on a monthly basis, paying the mortgage repayments anyway. But if the interest rates go up, it could easily push it up to a point where you can't afford it. Also what if one of you falls ill or can't work? It's unlikely the other will be able to cover the repayments - not for long anyway.
The other major thing to bear in mind is that the more you borrow, the more interest you're paying. A big mortgage means lots of interest.
You should also know that a lot of mortgage lenders now have very sophisticated credit scoring systems. They can see not just if you default or have CCJs and so on, but have access to details about your income and outgoings. So for example if a person has two children and a partner who doesn't work, they will be offered less than a single person who earns the same. Because their outgoings are lower and so they can afford higher repayments.
Other Costs
One of the first things to consider are the extra costs. It's not just about your repayments when you move in - there are lots and lots of other bills too! Conveyancing fees, searches, deposits, stamp duty, surveys… it's a long list.
After you move in of course there are other costs to consider there too. Monthly outgoings for things like household and contents insurance and your bills. And what if you want to do some work on the property? How will you find the money for that if all your earnings are tied up in mortgage repayments?
Tips When Planning What to Borrow
It's always a good idea to get advice and support for this kind of thing. A good IFA will look at your income and capital, assess what other outgoings you have and advise on a sensible amount to borrow.
What you need to consider is your monthly repayment sum - it's a good idea for that sum to be no more than 35-40% of your income. If you've been renting before buying, a good marker is what you've been paying in monthly rental - work out what you can afford each month based on how easy (or not) you found those repayments, and don't stretch yourself too much further.
Finally, be realistic. Dreams of 'budgeting' will often be hard to realise and you'll probably always end up spending more than you think, unless you have a will of steel!
You might also like...