The Deposit and Your Home Purchase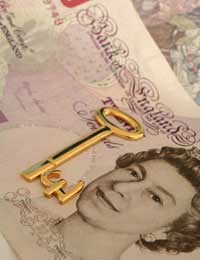 When you buy your property you will need to make two types of payment for the actual property purchase. The first is your deposit, which is a part payment of the total and is money that you raise yourself. The second is the mortgage, which is the amount you have borrowed to make up the rest of the sum that the property costs.
Arranging the Mortgage
If you're looking to buy your first home it's good practice to see an Independent Financial Adviser (IFA) early on if you can. He or she will be able to guide your financial arrangements throughout the process and can take the sting out of all the planning and know how.
When you start looking for the property, you will need to have a good idea what your budget is - i.e., how much you can spend on the property - so you will need to get your mortgage arranged 'in principle' first. Not everyone does it this way - some people like to find their dream home first. But it's not a bad idea to at least have some idea of what you can afford before setting out.
Arranging the mortgage will basically mean looking at the deposit you've got, how much you earn, what your outgoings are, and therefore how much you can borrow. It's absolutely vital to realise that overstepping that mark can mean you default on your mortgage and could even risk losing the property. Be realistic about what you can afford.
Some mortgage companies do offer 100% mortgages but these are not always advisable. You'll end up paying more for you money in the end with interest rates.
So the recommended minimum deposit really is around 5% of the sum you want to borrow. More is better - say 10% - but maybe having more to put down means you can get a bigger mortgage! Whatever your needs or decision, be sure you understand what the repayments will be each month, as long term, this is what's going to have the impact on your lifestyle or ability to keep up payments.
Where Does the Deposit Come From?
Well as a first time buyer, it's something you'll need to provide. You might have saved the money, or perhaps had a windfall such as an inheritance. Or even a particularly big bonus at work!
Whatever it is, you will need to remember that not only do you need that money, there will be other charges to consider, which can stretch into certainly hundreds, often thousands. Bear that in mind - the lump sum you have needs to cover a lot of costs.
Another option is borrowing the money through a low cost loan. A bit of a risk this one, as you're then also going to be facing those monthly repayments too. But if you can shop around for a good deal, and allow for this when making the purchase and budgeting for it in your monthly outgoings, this can work too.
You might also like...