How to Secure a Mortgage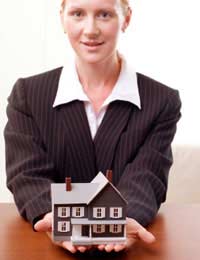 It's probably going to be the biggest financial commitment in anyone's life, so securing the right mortgage and getting it right is important. But how do you go about it?
Securing a mortgage is fairly straightforward providing you fit the criteria, but it does take time, and there's usually a bit of paperwork. The amount you are lent is generally based on your earnings, with you providing a certain amount of the total yourself. This is your deposit, and will make up a percentage of the amount you need to buy the property.
In the crazy house-buying 1980s it wasn't unusual for mortgage lenders to provide buyers with 100% of the property price, but this is not always advisable, and is less common these days. Higher lending charges often apply, and interest rates can be very high. It is far better to try and put together a deposit.
Who Arranges your Mortgage?
There are a couple of ways to secure a mortgage. Firstly there is the direct approach. You can do your research yourself, either online or by visiting banks and lenders; or you can use a financial adviser to help you. It's a far better idea to use an independent financial adviser (IFA) or broker, if you're a first time buyer and a bit inexperienced. Remember, the banks are only going to be selling their own products! Their interest is their own profits, not the most suitable product for you.
IFAs are paid commission by the lender, not you, so make sure there are no charges coming your way for this. If you go for a broker they may charge you a fee, but this should be no more than an absolute maximum of 1.5% and often there is no charge at all.
When engaging an IFA or broker, check to see that they cover the whole of the market, and not just a few mortgage lenders. You want to make sure you're getting the best deal from the widest choice possible. Some IFAs limit the lenders they represent in order to command higher commissions. But this is obviously not in your best interest.
It's also worth getting advice from more than one broker or IFA to check you're being looked after properly.
There are websites that can sell you a mortgage, and some even give you a cashback by splitting the commission with you. Our advice if you are interested in following this path is to do plenty of research, to understand the market and products first.
Find Out How Much you can Borrow
This is a simple case of maths, dependent on the lender's criteria. Your adviser will be able to calculate, based on your deposit and earnings, how much you can borrow. The joint amount of deposit and mortgage represents the sum total of the amount you have to spend. Do also bear in mind your other charges such as solicitors' fees, land searches etc as this will have to come out of your pocket.
Part of the lender's charges will be a lending fee which goes into the overall costs, together with the interest rate you choose. At this stage you will need to go through the different types of mortgage to see which one suits you best.
What if You Have a Bad Credit Rating?
Avoid websites that offer deals for borrowers with poor credit ratings like the plague. The best thing you can do is to discuss this with your IFA or broker as there are ways of working around this problem if you have a decent income and some deposit.
What Happens Next?
Once you have gone through the maths and the application, your lender will give you an Agreement in Principle. This basically means they have agreed a loan amount with you and assuming there are no problems with the purchase, are prepared to lend you this money. Once you have found your property, had your offer accepted, and started to move forward with the sale, the mortgage company will wait for the house valuation and all being well will confirm the loan.
You might also like...