Finding Local Services: Doctor, Dentists, School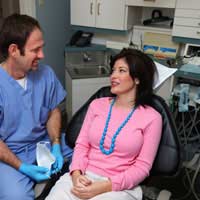 Moving into a new area isn't just about meeting the neighbours. Your whole life needs moving too! This includes finding a local doctor, dentist and school, if relevant, schools. It can also mean opticians, childcare, pharmacies or various clinics, depending on your needs.
Finding a Doctor, Dentist, Clinic or Optician
One of the easiest ways to locate and choose any of the above is through NHS Direct, by going to www.nhs.uk and clicking 'Find a local service'. You can then punch in your postcode and the site will present you with a list of the practitioners in your area.
Not all doctors' surgeries will have spaces for new patients, particularly in busy urban areas, so the first thing is to check those nearest to you and give them a call. It's as well to bear in mind that some surgeries offer options for specific specialist treatment, like a back clinic, so if you have needs like this you could check when you call them.
Also be sure to remember that you do have a choice when selecting your doctor. Most surgeries will require you to come in for an initial check up when you register, and if you don't feel happy with the doctor you see, ask to change. It's important to know you can seek medical attention with peace of mind and you are completely within your rights to object if your doctor doesn't tick all the right boxes.
With dentists too you may need to check to see if they have space for you, and if relevant, whether they take NHS patients. If you qualify for supported dental care you need to see if the dentist you're considering will accept you.
Opticians are pretty straightforward normally, but depending on your needs, it might be worth checking how up to date they are with equipment and so on. Little village opticians for example may not be able to meet your needs if you have acute eye problems.
Finding a School
With schools you have a couple of good routes of discovery. First port of call could be the local council who can supply you with a list of the schools in your area. This will cover both private and public schools, and some councils may also be able to offer more detail, such as OFSTED Report results or SATS results.
The other way to look for schools is through the government site www.gov.uk and going to the 'Education and Learning' section. On the right hand side menu there is a panel called 'Do it online' and you can find schools, childcare and nurseries in your area this way. This site also has full OFSTED reports to download
However is it vital to do your own research too. Most schools have their own websites which you can browse, and you should call all those you're interested in for a prospectus. Don't forget to check if you are in the right catchment area, and it's important to find out if there is space for your child in his or her year too.
Select those you are interested in, and make a plan to go and see them. Depending on the time of term you are looking, there may be open days you can go along to which showcase the school before a new academic year's intake, but if it's mid-term you'll need to see the head teacher for a show round.
Prepare a list of questions and criteria before going along, and assuming you like the school you may want to request that your child visit too before accepting a place. Make sure you complete any forms or paperwork necessary for your child to be admitted, and ask the school where their uniforms are sold locally.
Schools are also an excellent way to meet local people and get involved in the local community, so do try to find out what activities they organise in the neighbourhood.
Finding Childcare
Again, there are websites covering all registered child carers, including Direct.gov. These are government run sites with trusted content so a good place to start, but as with all these sites, the info can sometimes be a little out of date. Try calling your local council too, who will have a list of registered child care providers.
Do note that these information providers will only offer details on those child carers who are registered with OFSTED, so if you're looking for a simple babysitter you won't find one this way – you're going to need to ask around and the neighbours are a good place to start. Bear in mind that any Child Tax Credits you qualify for will only be paid for registered child care though.
You might also like...