Land Registry, Local Searches and Stamp Duty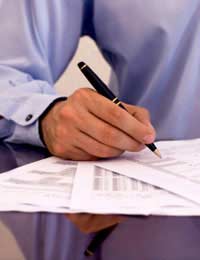 Land Registry Fee
Land Registry is a government department. Responsible to the Lord Chancellor, it is the department responsible for keeping and maintaining the Land Register of England.
The Land Registry department records all titles to land (ownership) and keeps a record of any dealings related to land, such as mortgages and sales. It registers all properties in England and Wales and shows not only who owns every property, but anyone who has a charge on a property, such as a mortgage lender or creditor.
There is a charge to register the new details each time the property changes hands and the purchaser is the one responsible for paying that fee. The amount of the fee relates to the value of the property - with the fees rising as the property value rises.
For current details about fees it's worth checking out the government website relating to Land Registry Fees. Your conveyancer or conveyancing solicitor will also be able to help you with this, advising how and when the fees should be paid.
Local Authority Search Fees
Your mortgage lender will require that you have a local authority search done to check out the area and make sure there are no potential problems. Problems could include any plans for development, changes to land use or rights of way, or new planning restrictions such as conservation areas.
There should also be a water and drainage search which show where water and sewage runs under the property. This will also have a bearing on the increasing risk of flooding due to climate change, so make sure you ask your conveyancer to check this out. Some searches also cover coal or other mineral or environmental searches depending on your chosen area. If it's recommended, it's good practice to have it.
Searches go out of date pretty quickly so it's important to try and get it organised swiftly. Depending on which local authority you're dealing with it can take anything from a couple of days to several weeks - although this is not desirable - but as an average you should assume around two weeks.
It costs money, of course. A search can be anything around £100-200 but definitely more in London, more likely £250. The water and drainage search is usually a bit extra, something like £50. Your conveyancer will handle the searches, as well as the Land Registry, so liase with them about the details. But be clear on the geographical area the search covers, and make sure it covers a large enough area.
Stamp Duty
This is quite simply just another tax, the government's cut of your transaction! If your chosen property costs more than £125,000 you will be liable for Stamp Duty (this increases to £150,000 if your home is in a designated disadvantaged area). It is charged on a sliding scale. Anything between £125,001 and £250,000 is liable for a 1% charge, rising to 3% from £250,001 to £500,000, 4% from £500,001 to £1,000,000, 5% from £1,000,001 to £2,000,000 and anything higher than £2,000,001 will cost you a rather hefty 7%.
It's a very good idea to remember this when buying your property as it can make quite a difference. Do bear in mind that the £1 over each threshold takes you straight into the next tax band. If you pay exactly £250,000, you'll only be charged £2,500. Pay £250,001 and this leaps up to a whopping £7,500.03. You can work with your vendor over this.
Make sure though that it's a reasonable and correct amount for the property. Tax evasion is of course illegal and Customs & Excise take it very seriously.
You might also like...