Introducing Yourself To Your New Neighbours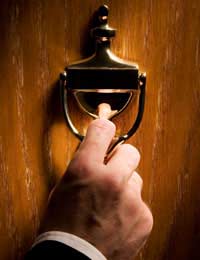 Having a good relationship with your neighbours is very important. We've all seen the television programmes or read the horror stories in the paper where people have ruined their lives over squabbles with neighbours, and these things can break out very easily, usually over rights of way, boundaries and so on.
Fortunately these incidents are in the tiny minority and mostly people get on with each other quite happily!
First Things First
You're bound to see the neighbours out and about when you're moving in. Say hello, give them a big smile! Smiles create smiles and it's a good way of letting them know you're open and approachable. You never get a second chance to make a first impression, or so they say.
Introduce yourself if you have the chance, and engage in light conversation. Good topics are neighbourhood-related. Where's the best park for children, what time is the post office open until, can they recommend a good doctor, that kind of thing. It's best not to dig about in their private life too much at this stage - test the ground first. They might not want to tell you, and you might not want to know! Leave the early conversation nice and open. Say you look forward to catching up with them again and get on with your business.
Chances are, most good neighbours have a way of welcoming newcomers and you may find that on moving day for example one will pop round with cups of tea. Or they might wait until you've said goodbye to the removals man and poke a head round the door to say hi. Doesn't matter how shattered you are, it's a good idea to welcome them back!
The Cup of Sugar Ploy
Maybe your neighbours are shy, or haven't noticed you've moved in. You can always try the good old cup of sugar method. It really doesn't have to be sugar, you can probably be a bit more inventive than this! But knocking on the door with a favour to ask is a great ice breaker - and if they refuse you, well at least you know what you're dealing with.
Remember though, very importantly, to return anything you borrow. And quickly, don't hang onto stuff for ages, even if you know the neighbour is unlikely to want it back. It's just simply not good manners.
Have a Party!
Nothing says 'we've moved in' like a bit of a housewarming. This is a good chance to get your family round for a nose at the new pad, but also a really great opportunity to get to know the neighbours better. For a first time a daylight event is better - barbecues or lunchtime drinks party is perfect - as this will stop any potential objections about noisy late night dancing. It will also mean the neighbours feel you've invited them because you want them there, not because you don't want them to complain about the late night noise!
Join Neighbourhood Watch
This works on at least two levels. It means you can meet your neighbours, but also be involved in keeping the neighbourhood safer. If you thought Neighbourhood Watch is a bunch of nosy old curtain twitchers, you could be right. But wouldn't you want them nosing at your house if someone was breaking in?
Join a Club
Finally, there is that advice that you always get about meeting new people. Join a club, a nightclass, a gym etc. This is still good advice as you will certainly meet others there, and could even give you a new skill or lease of life.
You might also like...