How to House Hunt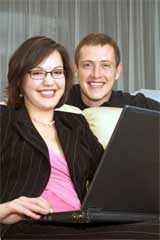 Unless you are very lucky indeed, there is a good chance you might spend a long time searching for the perfect property. Endlessly viewing the wrong houses is frustrating and time consuming, when all you want to do is get on with the business of buying your first home. It's tempting to rush around and see as many houses as possible, choosing all the ones you like the look of from the details, but a few guidelines can help cut down on your time.
Knowing what to look for and how to whittle down your choices will make an enormous difference to your strategy. It's all about making some decisions before taking that first step.
What is Your Perfect Property?
Before you can really start to search for your new home you need to decide exactly what you're looking for – put together a kind of 'Ideal Home' list. It's good practice to sit down and work out a list of things to think about. Do you want a house or flat? How many bedrooms or reception rooms? What about features like central heating, double glazing, fireplaces, parking and gardens – do you know what you have in mind? And you will need to bear in mind the area you're looking in. Work out what you need from your location – local shops, schools, transport etc. These things can make a difference when you start to look around.
Have You Got Finance Arranged?
There is little point starting to search for property until you know for sure you can afford it. Whether you are a cash buyer or need to arrange any kind of finance, do your legwork before starting your search. It would be awful to find your dream property only to realize you can't stretch to it.
Where to Find Properties for Sale
In the old days you had two choices; the estate agent or a private sale, usually through the classified ads of newspapers. And occasionally lawyers or solicitors handle property sales in matters of probate. Today of course browsing for property online has added a whole new dimension to the property market, meaning buyers have a much wider scope for searching, and can do it from the comfort of their home online.
But do also bear in mind the properties that are auctioned off. You can look for auction houses in your chosen area online, but be sure to engage the services of a decent surveyor or similar advisor when looking at auctions. It's true there are often bargains to be had, but equally, inexperienced property buyers get stung all the time.
Selecting Which Properties to View
Be patient and selective. Refer to your Ideal Home list and don't be tempted to dash about madly trying to see everything that looks half ok. It won't be.
Check if the house is under offer. If it is, maybe you're wasting your time, unless you're thinking you could offer the asking price or higher. Also ask the agent how long it's been on the market. If it's a long time, there's a reason for it.
Don't build up your hopes until you've seen something. Agents' details legally have to be factual but they can paint a positive picture – that's their job. When you have decided which properties you like, contact the agent to make a viewing time.
It is often said that buyers know immediately which is the right property as soon as they set foot inside the door. If this is the case then that's great – but careful planning beforehand will definitely pay dividends.
You might also like...