Surveyors: What They Do and How They Work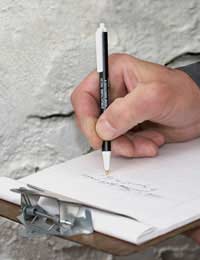 Depending on the type of property you are thinking of buying, there are different types of surveys you can have. The type of survey you choose will depend on the property's age, design or any basic large structural problems you have seen when viewing it.
The two main types of surveys available are the Homebuyer's Report, or basic survey, which is generally used for houses less than 30 years old and in relatively good condition, and the Full Building Survey, also called a Full Structural Survey.
Whichever type you decide you need your survey is carried out by a chartered surveyor. The surveyor might be recommended by your mortgage lender or the estate agent or even conveyancer but you can also locate them in the Yellow Pages and it's worth checking the fees for a couple at least. Your mortgage lender will often have surveyors you can engage and this will often be cheaper than a whole new quote but it's definitely worth checking. Check also that your surveyor is registered with the Royal Institution of Chartered Surveyors too.
Prior to engaging a surveyor, you will have had a valuation on the property conducted by your mortgage lender. This is not a survey, but simply a more cursory check to assess if the property is worth the price you have agreed to pay. This is not the same as a proper survey and will not highlight any structural problems you should know about.
Homebuyer's Report
This is a cheaper option than the full structural survey and is used for properties in good condition, or those that are not too old. The main objectives of the Homebuyer's Report are to assess whether the property is worth the price you've agreed, and advise whether or not to buy it. The surveyor will also outline a plan of action for anything that needs sorting out before contracts are exchanged, and give an overall assessment of the general condition of the property, including testing for damp and the condition of insulation.
Full Structural Survey
This is more costly and more detailed than the Homebuyer's Report and is used for older buildings, listed buildings, usually constructed buildings, anything you plan to renovate or alter or that has been altered or extended. The survey covers everything you get in a Homebuyer's Report but also looks in more detail at the structure of the house.
It will identify major and minor defects, looks at the construction of the property and the location it stands in and the surveyor will also be able to recommend a course of action to deal with any problems that might be uncovered during the survey.
What It Can Mean
Once you have the results of your survey, whichever type you decide to go for, you need to check it through and identify any glaring problems which have been highlighted. If there is anything serious you may wish to renegotiate the price with the vendor, but discuss this with your surveyor who will be able to advise you, based on your current offer. You will also need to give consideration to any work that needs doing – are you prepared to take it on when moving in?
You might also like...