My Friends Shared My First Home: A Case Study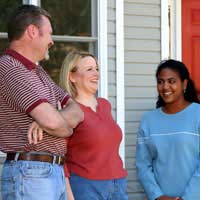 Friends cannot only offer emotional support when you move into your first home but they can also provide financial help.
Renting a room to a friend is one of the best ways to get some extra help towards paying your mortgage and gives you the opportunity to come home every night to a friendly face.
Case Study
Chris was 27 years old and had wanted to get on the housing ladder for some time but did not want to shoulder the responsibility of having to pay the monthly mortgage costs. He enjoyed living with his friend Lee and was not keen on the idea of giving this up. He knew however that he was wasting his money by renting with his friend.
Sharing the Cost
"I decided to look into getting a mortgage. I was advised that I would be able to borrow around 90-95% of a property's value maximum. I was earning around £30,000 a year so by renting I had already been able to save up around £8,000, so I didn't think this would be a problem," explains Chris.
He then started his hunt for his perfect first home, he wanted to create the ultimate bachelor pad and was swaying towards buying a two-bedroom flat.
"I took Lee house hunting with me to gage his opinion and get his advice. Ultimately though it was going to be me who was paying the mortgage so I would have to make the final decision," explains Chris.Chris was thinking about charging Lee around £70 a month, which was roughly what he was paying when renting.
Getting the Mortgage
"I had found an ideal two bedroom flat that was close to where we were currently renting with an asking price of £120,000. I was going to try and haggle them down to £110,000, which would mean I had the 5% deposit required.
"I told my mortgage adviser that I would be renting a room to one of my friends to help cover the cost of the mortgage but he said this didn't matter. He said this made no difference to the mortgage lender and they would not be able to take this into account when working out how much money I could borrow," explains Chris.
The only way the mortgage lender would be able to lend Chris more would be if Lee was to put his name on the mortgage and for them to take out a joint mortgage, something neither wanted to do.
Chris was able to get the mortgage on his wage alone though, which meant he was able to get the ball rolling and start plans to move into his home.
Getting the Balance Right
"My biggest concern about moving in with Lee was that I would technically be the landlord. Whereas before we had both paid our rent and left the landlord with all the responsibility it was now going to be up to me, which created the opportunity for arguments," says Chris.
"I made sure that Lee was happy with his bedroom and told him if he had any concerns to come straight to me and I would try and fix them. The house was in need of a few repairs which I could not afford to do straight away so Lee had a few grumbles about those, but on the whole it worked out well," says Chris.
"We found that even though it was my name on the mortgage we were both concerned about the flat and so if anything went wrong I would normally be quiet quick to fix it. The extra rent coming in from Lee helped me a lot financially. The mortgage payments were not too bad, but when you own your first property you suddenly start to realise how easily bills can stack up and how much it costs to pay things such as council tax, gas and electricity," says Chris.
Moving a friend into your house is one of the best ways to help you out financially. You don't have to share your house with a stranger but you can still have the benefit of the extra rent. You will need to have a special relationship with any friend you move in. Even the best of friends can fall out occasionally, so when you add to this the added pressure of one of you acting as a landlord, it is easy to predict where things could go wrong.
But if you are comfortable with the person you are asking to move in and know you will get on great there should be no problem
You might also like...