Complaints About Tradespeople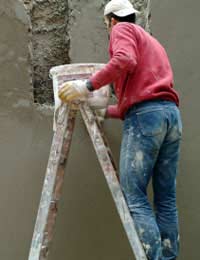 One of the joys of having your first home is the fun of redecorating or doing some work to it.
First time buyers often have properties that need 'a bit of work' doing to them, so you could be looking at some serious repair and re-building work in your property, or it could just be that you're looking to redecorate and put your stamp on your new home.
Simple jobs are often tackled as DIY, saving money on labour and meaning the job can be done at weekends, but it might be that you work too long hours, or the job is too big, and you could be looking to employ painters, decorators, builders or other tradesmen to do the job for you.
Do Some Research
It goes without saying that getting the right people in the first place means less chance of things going wrong down the line. So put a bit of time in making sure you have the right tradespeople. Get a few different quotes, whatever the job is, and always ask for recommendations. If you can't get any background from people you know, ask the tradesmen for examples of their previous work. No tradesperson will object if they're on the level.
Tradespeople are licensed to do particular jobs, so check this out too. For example, an electrician is not usually licensed to do plastering. The 'jack of all trades' is likely to also be known by another name - 'cowboy'!
Check also for certificates of insurance, as tradespeople will need to hold insurance for workers compensation and public liability etc.
Do Some Background Checking
If you're not sure about a tradesperson, even after the checks above, you can contact the Office of Fair Trading or the Department of Consumer Affairs who keep a record of tradespeople with a bad track record.
Also, there are a number of governing bodies and associations that lend support to a tradesperson's reputation, such as the Federation of Master Builders, or Trustmark. Ask your tradesperson which he or she belongs to as this will help give you peace of mind, and some protection if things go wrong.
What If Things Do Go Wrong?
Firstly it's best to try and resolve the grievance with the tradesperson rather than immediately start heading down and path of redress. The legal course of action could be costly in both the financial sense and in terms of your time, when a calm discussion with compromise and understanding on both sides can resolve the matter.
Make sure before starting that the contractor has a very clear idea of what you want, as this will help enormously, and ensure you have some kind of contract or brief that both you and the tradesperson will have copies of.
If you cannot resolve the dispute between you, the next course of action is to enquire about their complaints procedure. If you're met with resistance or if there is no recognisable course of action, you will need to seek outside assistance.
Governing Bodies
If your tradesperson bears the hallmark of a governing body such as the Federation of Master Builders, or the Institute of Plumbing and Heating, you can take your complaint to these bodies as a first port of call. They will have a complaints procedure and can be found online. They will require you to detail the complaint and may often, if the case goes to court, require independent witnesses to assess the work in dispute.
As with all complaints, it's far better to try and resolve these without recourse for legal action.
Still Not Happy?
If you do not get the response you require from the governing body, you will need to address your issue to Consumer Direct or even the Citizens Advice Bureau to seek support or information about legal action to recover your loss.
You might also like...