Budgeting For Your New Appliances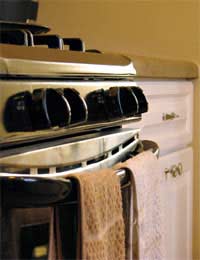 Putting a little bit of money away each week can soon add up. When moving into your first home it is easy to get swept away in the excitement of it all and forget that it is not just your monthly mortgage payments that need budgeting for. Many people fall into the trap of not budgeting at all for household appliances - many of which it's difficult to do without, even for a short time.
The Point Of Budgeting
Unless you have moved into a new home or one that requires little work, the chances are that from the day you move in you will want to start ripping out the previous owner's decor and start giving your home your own individual style. Most new homeowners rely on loans or credit cards to fund laundry and cooking appliances. But if you can avoid taking out additional loans you will be able to manage your finances a lot easier. People who rely on loans often end up overestimating how much they can afford in repayments or go crazy when it comes to buying appliances on credit.
When To Start Saving
Ideally you should start budgeting for appliances 12 months before you move into your new home. If you are moving in with a partner or a friend it might be a good idea to set up a joint account and set up a standing order to it, so you each save a certain amount towards appliances.
Remember, it is not just when you move into your first home that you will need to budget for appliances. You will be responsible for looking after and maintaining your electrical appliances throughout your ownership and you don't want to find yourself with no emergency fund when your boiler breaks down on a cold winter's night.
When saving it is best to find a high interest savings account. If you are living with a partner or a friend you should continue to put a small sum in the account every month so you can replace any household appliances if needs be.
How To Budget
You should start your budgeting by working out your outgoings verses your incomings. Take away anything that is non-essential or your think you can live without.
Remember to always overestimate how much you spend when budgeting. Keep a spending diary, much in the same way someone on a diet would keep a food diary. See what you are spending and work out what is more important, that new piece of clothing or saving up for some new household appliances. Once you know what you are saving for it soon puts things into perspective.
What You Will Need To Budget For
Your biggest cost in your new home will be your kitchen appliances, unless your new home already has your dream kitchen appliances you are going to need to buy a few essentials such as an oven, fridge, freezer, washing machine.
Even if your house does seem to have all the correct appliances it is a good idea to get an electrician or a plumber in check them over. It may cost you a couple of hundred pounds to have a full check carried out, but this will save you money if anything goes wrong down the line.
Quality Verses Quantity
With a boom in internet shopping and supermarkets branching out into areas such as kitchen appliances, it is now possible to pick up household appliances a lot more cheaply than twenty years ago.
You may be of the frame of mind that you want everything to be perfect and of the best possible quality it can be. While this approach has its benefits it is worth matching up your expectations with your income. It may be that you can't afford the top range kitchen appliances. This does not mean that you have to go searching for the cheapest kitchen appliances you can, but you should do your homework and look at all the options. Many people's tastes in furniture and kitchen appliances change very quickly.
If you know you are somebody that gets bored with the decor in their house very easily, it may be a good idea to spend less money on new household appliances in your house, so you can replace them every few years.
It may not sound like it, but saving money and budgeting can be very rewarding and enjoyable. There is nothing that quite matches the feeling of knowing that you have worked hard for something, saved your money and you have been able to buy something without getting into debt. As long as you remain focused and keep your end goal in sight then your budgeting should not go wrong.
You might also like...